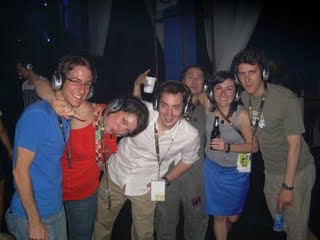 After presenting in Tokyo, London, Milan and Amsterdam,
Silent Disco
came to Canada to join the 27th edition of the Montreal Just for Laughs Festival (Festival juste pour rire) a great event created by Gilbert Rozon in 1983. Rozon was inspired with the idea of bringing together in one place a bunch of people who like to laugh, with a bunch of people who like to make others laugh. This year, the prestigious comedy event that exists in 150 countries, invited DJ Nico Okkerse to present the Silent Disco, during ten consecutives nights.
Canadian journalist Pierre- Marc René, invited me to join a team of enthusiastic young guys who were excited to dance with headsets, and resident deejays who play all kinds of music. We went to the Just for Laughs Museum at Saint- Laurent Street and as soon as we came in, they gave us headsets, and explained that we could choose the music channel on our earphone by switching instantly.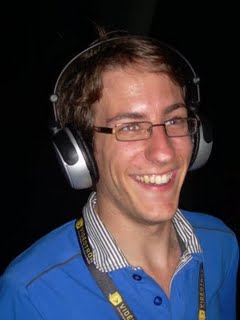 The environment was quite different. A lot of people were either dancing alone or with a group and having fun. A bar was open to buy any beverage and there was a big stage where two DJs were programming the music and talking to everybody through the headphones. At one point I felt like if I were listening to a radio station, but it was cool though.
Silent Disco broadcasts music to the crowd on two channels, and the audience can choose whether to dance or talk by just taking out the headphones. By the time I decided to share some impressions with the rest of the group, I found out that it was very comfortable to chat without screaming in someone's ear, like we always do inside the bars, when the music is playing.
Without losing time, I asked if I could meet DJ Nico Okkerse, one of the creators of Silent Disco. Silent Disco is the biggest and most unusual sensation at any festival and is set to electrify international crowds from Romania to Ireland, Spain to Latvia and Indonesia to Australia with their mixes of dance, hard house, punk, disco, salsa, early swing from the twenties, alternative, world, electro, hardstyle, gabber and Dixieland.
Democratic Sound
Originally from Rotterdam, Holland, Nico Okkerse is also a DJ. I was able to have a quick interview with him during one of his breaks.
N.G. Is this your first time in Montreal?
NICO OKKERSE: Yes. We have been in Canada before, but in Toronto, and we also attended the Bluesfest in Ottawa
N.G. How did you come up with this concept?
NICO OKKERSE: I believe, I wanted to protest against the noisy music that we have at bars, and along with Michael Minten we thought to bring this concept of new experiences all over the world.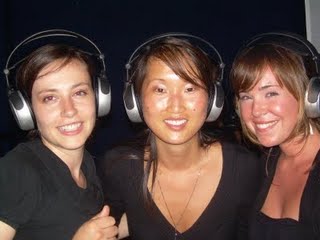 N.G How does it work the Silent Disco?
NICO OKKERSE: It is a disco party without the traditional speaker system, so we use wireless headphones and an FM transmitter to deliver the music to participants, those without the headphones can't hear the music.
N.G. What about the earphone? Can we say that is a sort of an iPhone?
NICO OKKERSE: Our earphones have better acoustics, the level of the music is not that high, but it is still good. I am afraid iPhones are too loud, and an audition study in Holland demonstrated that 30% of people aged between 20 and 30 years old, are increasingly affected by the use of noisy iPhones, they are destroying their hearing, and this is stupid.
N.G. I heard not only the music but the voice of the Dj
NICO OKKERSE: Well, we decided to create the 433fm, a radio station that broadcasts only for the participants of Silent Disco. We have no jingles, neither commercials nor news, only good, varied and danceable music. We bring this radio and its Silent Disco worldwide.
N.G. Silent Disco became an instant hit in The Netherlands, Belgium, and France, can you describe this success in a few words?
NICO OKKERSE: (laughing) "Celebrating music" ; "enjoy music" ; "democratic sound" or "good sound"
N.G. Do you think this environment incites more or less the use of drugs?
NICO OKKERSE: Drugs are not necessary to have a good time, I hate the idea of using drugs and I know that young people in Rotterdam are addicted to ecstasy, and they are killing their brains, they mix that while listening to techno music, and it is a shame. Despite of the fact that Holland has a pot policy, the control of hard drugs and, the encouragement of drugs treatments are a very important issue in my country.
N.G. How did you like Montreal?
NICO OKKERSE: I like it very much, I found it very Latino.
N.G. Where will the Silent Disco go now?
NICO OKKERSE: We are looking forward to visiting Japan and Brazil as well.
Guest Editor: Claudia Jara
Thanks to: Pierre- Marc René and good luck in Mexico!

Mar, cielo y tierra. Esta es la perfecta descripción de Casa Victoria, un lugar lle…