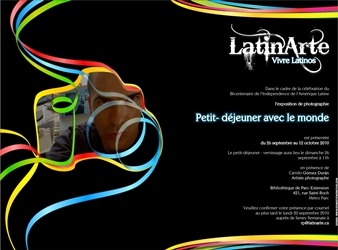 Photographer Camilo Gomez participated in LatinArte 2010 with a great photo exhibition called "Breakfast with the world", I want to share his speech with all of my readers.
"I would like to thank Latinarte, its founders, Angela Sierra and Natalia Gnecco; Monsieur Martin Hurtubise, director of La Maison de la culture of Parc Extension and his team; Madame Mary Deros, Counselor for the City in the District of Parc Extension; Papineau's Federal Deputy Monsieur Justin Trudeau and his team, the program Hors des murs, as well as the other social organizations involved who supported this project in one way or another. But specially, I want to thank the families and persons, whose generosity made it possible to produce and to exhibit the present photographic essay titled "Breakfast with the World".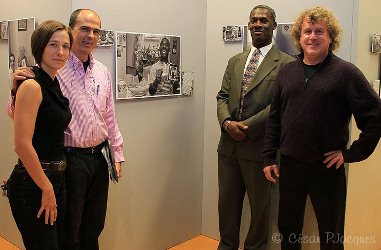 The persons here represented, permitted me to visit and photograph them in their homes, giving me a warm welcome; I wish I could have conveyed such a generous attitude within this exposition.
When intending a graphic study of the actual family, we know that we are going to do a portrait of something that is changing very fast like a black chocolate ice cream. Life changes, the family changes, the concepts over the family also change according to the origin of their cultures, and depending on the results of their interactions.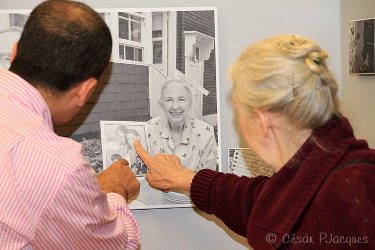 In making a photographic essay of the family today, specifically, a portrait of the people living under a same roof supporting each other during a more or less long time, surely, it will render us with surprising and unveiling images.
Family structures in general are being transformed in accordance to the perceived needs of their members who are constantly accosted by cultural or natural factors. Immigration, generated by economic, academic or political factors, has also a huge impact over the composition or re-composition of the family.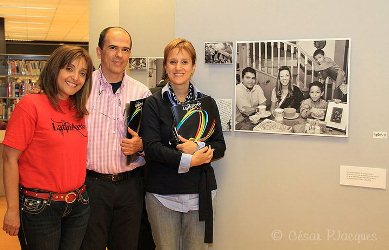 In this work that we present today at La Maison de la culture of Parc Extension, we have immortalize time slices of diverse family structures from Montreal, being they of social-static or dynamic nature. Within these places, I wanted to add or to highlight the "absences" that seem to make profound marks in our lives in a society reigned by individualism, by emigrational movements or by the departure of our children.
I feel elated with the results of this work. Nevertheless, I would like to express my desire founded on an anthropological and spiritual thought. That future photographic essays to come, the family in the year 2040, for example, will represent equally the portrayal of families that gather in multi-grouped communities where property y privacy are respected, but within more socially responsible environments, acting with increased solidarity, and giving each other a more inclusive and progressive support while contributing to planet's ecology.
The Province of Quebec, and specially the City of Montreal, are sparkling with spaces of social transformation and with rich interacting cultural opportunities; together, those native and adopted, opening our hearts within an frank dialogue, we will be able to carry the spirit of La Belle Province far, indeed far away from its geographic and historical limits".
Thanks.
By; Camilo Gomez
Photos: Cesar J Pereira
Mar, cielo y tierra. Esta es la perfecta descripción de Casa Victoria, un lugar lle…