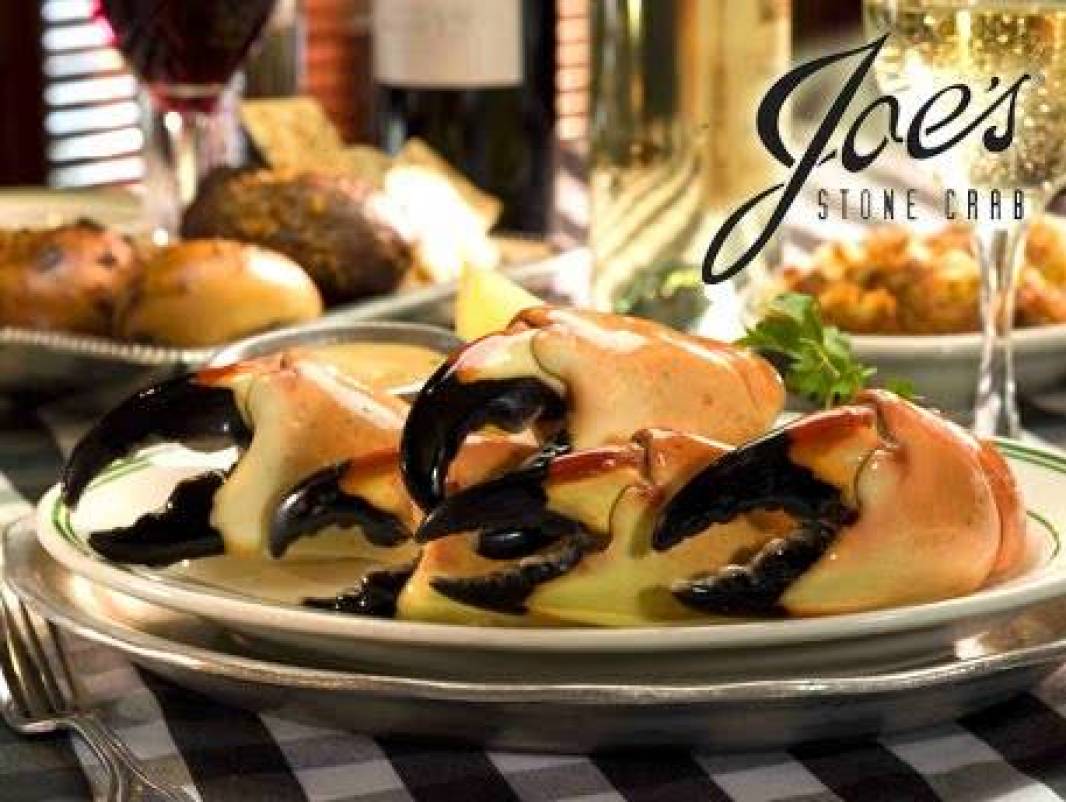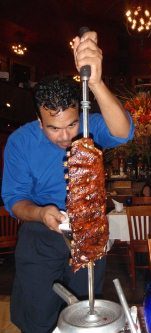 Miami is the gateway of the Americas, a center for entertainment, education, media, music, fashion, film, culture, print media, and the performing arts. However, there are some many places to go and see that it is good to ask for some advices or tips. I had such a great time in Miami discovering new flavors that I decided to write a blog about my five top restaurants. I will leave aside from this list Rainforest Café, Panera Bread TLG Fridays, Villagio Restaurant and others that I like a lot, just to share with you the new experiences.
TEXAS DE BRAZIL.
http://www.texasdebrazil.com/
My first impression with Texas de Brazil was awesome: Iit was an amazing dining experience. Located in the Dolphins mall, this restaurant has an incredible decoration, the salad bar is gorgeous not only for its style but for the quality of the vegetables, cheese, olives, rice, beans, bread, potatoes salad, cherry & sun dried tomatoes, , shrimp salad, artichoke hearts, Brazilian black beans, steam asparagus, and salad dressing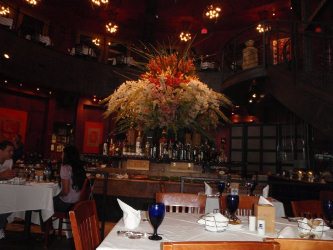 The fixed –price dining concept allows you to have everything you want, also to enjoy hand-rolled cigars luxurious lounge, and the wine cellar filled with over 500 varietals.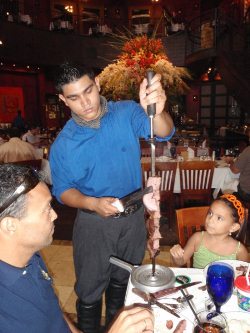 As soon as we arrive a Colombian waiter took care of us and he never leaves us alone. A troop of cavers roamed around our table offering us cuts of beef, chicken, lamb, pork, and sausage. To complement our meal, a plate of fried bananas
prepared with a hint of cinnamon and sugar, garlic mashed potatoes, and Brazilian cheese bread …something irresistible!
The juicy filet mignon and the flank steak were my favorites. A small card was set up for each one in the table, so the waiters come whenever the signals are green, and they stop offering you meat if you show the red side of your card. The dessert selection was very good too; you can have Brazilian cheesecake, flan, coconut chess pie, chocolate mousse cake, papaya crème, etc.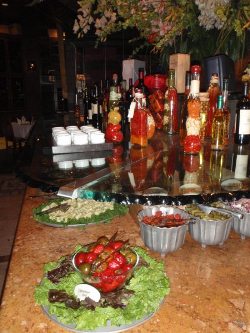 I guess I have to come back to try the famous "Caipirinha". I was so excited with the meat selections that I forgot to ask for this wonderful cocktail made with Cachaca Rum, fresh lime juice, sugar and crushed ice. It is a shame I forgot to try the Caipirinha, because there are many types, my friend Lorraine who lived a couple of years in Brazil has taught me about this, so next time I will have the opportunity to compare it with the one she also makes here in Quebec.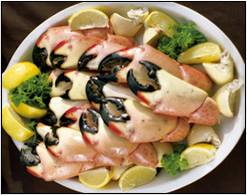 JOE'S STONE CRAB
http://www.joesstonecrab.com/
No matter how far you are from Joe's restaurant, it is worth to eat there. I was invited to this American icon located in Miami Beach, that was founded In 1913, when Joe Weiss opened up a small lunch counter on Miami Beach, at that time this side of the city was just a quiet, backwater town. Joe and his wife, Jennie, both Hungarian-born, were living in New York, Joe was a waiter, and Jennie cooked in small restaurants.
They moved to Miami Beach, set up seven or eight tables on the front porch, cooked in the kitchen, and called it Joe's Restaurant. Jennie waited on tables, Joe cooked, and everything started to grow from there. When it got crowded, they'd spill over into the dining room. Joe's was the only restaurant on the beach, and for about eight years there was no competition, so the fish sandwich became very famous. You can find the complete story in Joe's book along with the recipes, and an interesting guest list with the names of celebrities and politicians from around the world, who have eaten here. The traditional menu is also available at the website, so don't hesitate to recreate the appetizers at home or to learn the art of cracking.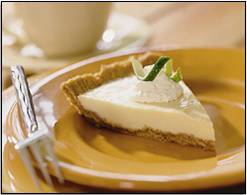 Our host, Ambrosio gave us a great recommendation that evening, so we followed his instructions and we started with a Rhode Island Fried Calamari
with key lime aioli; then we ordered the cold seafood platter served, with stone crab, all this wonderful meal with a bottler of cold Cristal champagne. The dessert was the Joe's famous Key Lime Pie… so good that I have no extra comments!
Jazz is also included in menu. Joe's offers during summer a special show, every Friday and Saturday from 8pm to 11pm customers can enjoy the magic of Jazz, artists like Nicole Henry, Nika Garcia, Dave Fernandez , Brenda Alford … A perfect combination: Jazz & seafood!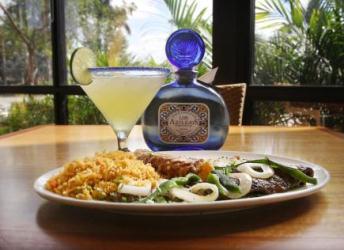 CANCUN GRILL
http://www.cancungrillfl.com/
If you love Mexican food, then you can't miss Cancun Grill. Winner of the Miami Herald Reader's Choice Award for five consecutive years, Cancun Grill's flavor menu, and selection are really special. Appetizers soups and the dinner menu give you an idea of a variety: "Crap tamal", "enchiladas suizas", "sopes do Monterrey", "Plato Cancun", "Plato de Veracruz", "gringo plate" etc.
I ordered a Mega Margarita and it was wonderful, then I picked the fajita lunch and I was very satisfied. Beef and chicken fajitas on a sizzling platter with guacamole, sour cream and cheese and hot tortillas were perfect, well served and the guacamole was fresh and flavorful. I didn't stay for the happy hour but my friend Patricia mentioned a positive comments about the entertainment time that this restaurant offers.
MONDONGOS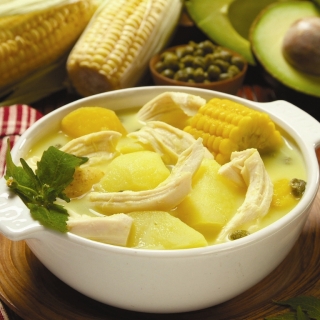 http://www.mondongos.com.co/
According to some friends, Miami is the best neighborhood of Barranquilla Colombia. I know is a funny joke but I wanted to mention this to give you an idea of how many Colombians live now in Florida. I have to confess that Cuban food is always in my mind whenever I am in Miami, because it reminds me my father and his favorite meal "ropa vieja" that we used to eat at Cuban's restaurants in Miami Beach or downtown. However, this time I had a craving of Colombian food, and my brother Jorge just read my mind, he invited me to Mondongo's restaurant, and he made my day!
We started with "Patacones , and I ordered the traditional "Ajiaco" served with rice, avocado, and corn, with a mango juice. Everything was delicious."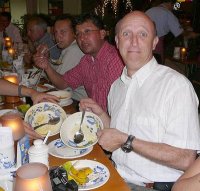 The place is cozy and nice and makes you feel so comfortable that you want to stay longer and try other dishes. As far as I could see they care very much for the menu, the service and the ambience. Mondongo's has a special place for kids and the parking lot is enormous, I was wondering if we ever going to have such a nice Colombian restaurant here in Montreal, I wish they could come one day and open another here. We probably have good Colombian cafeteria in the island but not a real restaurant. Our gastronomy is extensive, and people tries all type of food here … Well, I will be more than happy to have a Mondongo's here.
SWEET TOMATOES SOUPLANTATION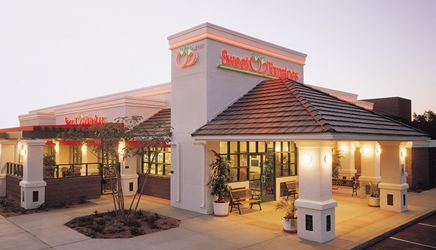 http://www.seewttomatoes.com.
Sweet Tomatoes souplantation is an excellent example of a quick meal that includes salads, soups, hot pasta, pizza, or loaded baked potato, and a bakery bag for your choice of muffins, focaccia and bread. This restaurant proves that we can find a healthy fast food in Miami for a great price. My favorite soup was broccoli, but I tried as many as I could. At the end a cup of Colombian coffee was waiting for me.
It was my first time here too, so I was surprise to find out that Sweet Tomatoes Souplantation started in San Diego in March 1978, and it is the first casual eatery brand to serve fresh, wholesome menu options. The restaurant is pride on offering an all-you-care-to-eat dining experience where guests can create a meal tailored to their needs, All the items are fresh, high-quality ingredients and daily made.
Mar, cielo y tierra. Esta es la perfecta descripción de Casa Victoria, un lugar lle…