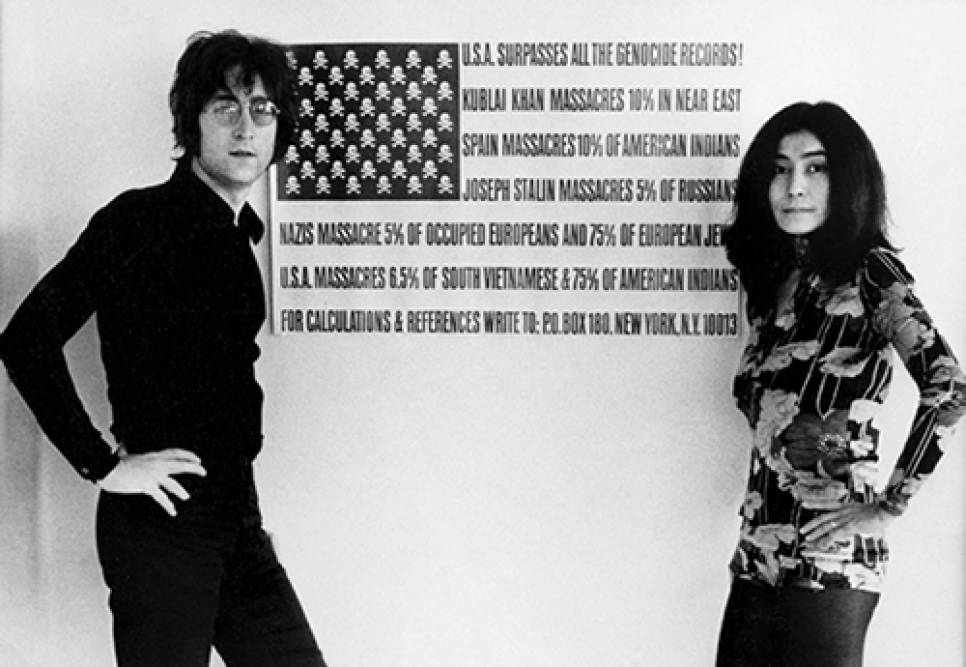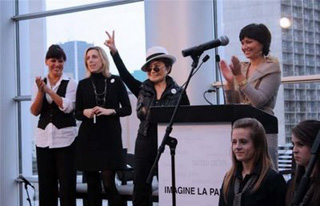 1969 was the John Lennon and Yoko Ono's famous Bed-in, in Suite 1742 of Montreal's Queen Elizabeth Hotel, their protest against the Vietnam War made headlines around the world, and their pictures wearing pajamas became an icon. Forty years later, the Montreal Museum of Fine Arts (MBA) celebrates the artistic dialogue that developed between this couple with the exhibition "Imagine: The Peace Ballad of John & Yoko".
I was invited to meet Yoko Ono who collaborates very closely with Nathalie Bondil, the director of MBA, to design and set up this multidisciplinary free exhibition that will be in Montreal until June 21. This remarkable experience gave me the idea to explore more about Yoko, and how the women in Montreal see her nowadays, since she was sarcastically known as the most famous widow in the world, who caused the breakup of The Beatles, the most famous music group of all time.
After the Press Conference, the exhibition opened its doors for special guests and Nathalie Bondil surprised the audience with the group, "Les Petits Chanteurs de Laval", that sang "IMAGINE". I have to confess that I was touched by the magic of the moment; couples holding hands, eyes dreaming with the nice memories of the Beatles and all the political ideas of the 60's.
I walked through the audience and I met Giles Simpson from Pointe Claire who told me she came because John Lennon was an artist, however she ignores his wife: "She just attached herself to him. I think Yoko is still playing on her husband's fame for her own notoriety; I don't think she has a high -profile".
Immediately I run into Lonnie another nice woman who lives in Montreal. She was very happy to express why she came: "I wanted to relive that era of the nation because it was such an exiting time for me, and it changed so many things. It was just the freedom blinking with the past and tradition, I was in my early 50's, my kids lived that too, and if I have to choose a song from the Beatles, it would be very difficult, they were all memorable".
Cynthia from Westmount was in the same mood, she added: "I see Yoko as a creative person, a great artist that knows how to express herself. She is a legend, she continues John Lennon's works and there is no body better than him". Cynthia told me that her favorite song was IMAGINE, she also visited the Strawberry Field at the Central Park in New York, a memorial landscape for Lennon covered with flowers, candles in glasses and other belongings left behind by John's fans. "The whole situation was exceptional; they gave a lot to society and culture. My kids still listen to the Beatles. John will never die".
Gineth, who works as an MBA guide was also exited because Yoko Ono symbolizes her youth and is a great souvenir for this generation because of her politics ideas. However, the French Canadian was very disappointed when she led a group of teenagers through the MBA and nobody recognized the couple; neither the poster of famous Bed-in. "I was shocked" said the guide.
At the end, I run into Nancy, she is an Algerian who has lived in Montreal for many years. She was crazy about the Beatles but has never been a fan of Yoko, she explained: I lived between Paris and Algeria during Beatlemania, and I know all the troubles that Yoko caused this group, she brought bad luck. I remember we used to call the Beatles "Les Quatre garçons dans le vent", and when Ono showed up, they split, John was killed, Linda was sick, and the friendship between Paul McCarthy and John Lennon was over".
A peace messenger
Yoko Ono, whose first name translates "ocean child" was born on February 18, 1933 in Tokyo, she was the eldest of three children born in a wealthy aristocratic family. Apparently, she was artistically misunderstood, because she was a visionary who was already an avant-garde superstar before meting John Lennon. Today Yoko is finally recognized as an influential artist who pushes the boundaries of the art, film, and music, as well as theatre media.
Yoko studied music at the prestigious Jiyu-gakuen Music School in Japan, and was the first woman admitted to the philosophy program at the Kyoto University. In 1961 she had her first solo show, "Painting and Drawings" in New York. Then in 1964 she published a book named Grapefruit. She participated in the Destruction of Art Symposium in London, she made her 4th film in 1967, and so on.
After John died she continued defending peace , in 1999 she led a protest against the Gulf War, she has done many music albums like "Feeling the space", "Season of the Glass", Blueprint for a sunrise, and this coming June, she will be awarded a Golden Lion for Lifetime Achievement at the Venice Biennale. According to the biennale press release Ono is a "pioneer in performance and conceptual art, one of the most influential artist of our time".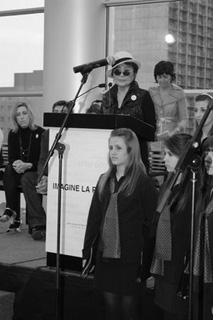 Nathalie Bondil, the director of the MBA of Montreal, admires Yoko and John's commitment with the society. She believes Imagine is more than an expo; it is an action and action is peace. That is why the public will have free access to some 140 works, drawings, unpublished photographs, videos, films, artworks and interactive materials which convey the famous couple's message of universal peace. Visitors will also be able to play "imagine" on a white piano with a disklavier sound system.
Finally, I was happy to know more about Yoko and even surprised to find out details about her album "Yes, I am a Witch" released in 2007, I guess she has been aware of all the controversy she arose while she was Lennon's wife, and like it or not, she is a messenger of peace. Hope all of you can visit this exhibition, I enjoyed it as much as I could, I wrote down the Ono's Wish Tree and left my "imagine Peace stamp" in my dear country Colombia.
Guest Editor: Laz.
Photos Yoko in Montreal : David Nathan
Special thanks to MBA.
Mar, cielo y tierra. Esta es la perfecta descripción de Casa Victoria, un lugar lle…