The Hôtel de Glace: Happy Anniversary!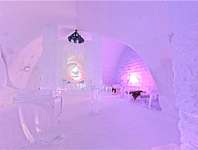 The Hôtel de Glace is ready to celebrate its 10th anniversary that will be held from the 4th of January to the 4th of April 2010. Whether for sleeping, or visiting, the Hôtel de Glace is the place to be this winter! The big news this year is unquestionably the igloo, which evokes an act of memory, honoring the northern roots of Canada. The expertise department of the Hôtel de Glace innovates once again by creating an igloo 25 feet high and 40 feet in diameter. This igloo is a media room where projections, conferences, exhibitions and demonstrations will follow.
For the first time since 2001, the Hôtel de Glace has developed a very special event programming for its 10 years. In addition, some individuals and organizations have decided to join the party: the explorer Jean Lemire and Maxime Jean and also Équiterre, an ecological organization that develops projects that empower citizens to make environmentally and socially responsible choices.
You can't miss this:
January 21: Great opening night of the Hôtel de Glace;
January 28 to 31: Ice Adventure;
February 4 to 7: Ice People;
February 11 to 14: Quebec's Nordicity;
February 11 to 7 March: Nordic Arts and Life Festival.
History:
In 1996, as he was establishing La Piste Desbois, an eco-tourism company, Jacques Desbois, a winter enthusiast and lover of snow happened upon a magazine article about the Swedish Ice Hotel called "Mr. Igloo" and he thought : "If they can do it in Sweden, we can do it here in Quebec, the snow capital of the world." With that, he went to Jukkasjärvi, Sweden, to meet with the creators of this magical structure, and with the eventual plan of setting up a North American ice hotel, he established his company and acquired years of experience in eco-tourism and outdoor activities.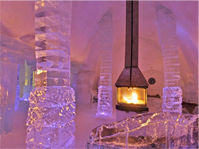 Some facts:
In the past 10 years, the Hôtel de Glace has welcomed over a half of million visitors, 25 000 guests on overnight stay, over a 130 couples who united there destiny at the Ice Chapel, and over 75 000 guests in different events. The Hôtel de Glace offers 36 rooms and theme suites, an Ice Café, an Ice Bar, a majestic chandelier, a Grande Ice slide and an Ice Bar where guests can unwind with a cocktail served in an ice glace!
Winter activities:
Cross-country, skiing, ice skating, snowshoeing, dogsledding, ice fishing, snowmobiling and sliding.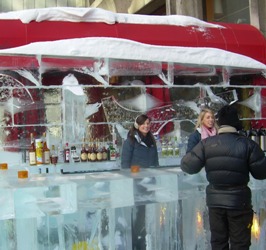 Garçon Ice Bar
Last year The Hôtel de Glace opened a small brother down town Montreal. The same team that builds the Hôtel de Glace has relocated at the restaurant le Garcon for a short period to create an Ice Bar. After building an igloo in Canada's fare north the expertise team has migrated south on Sherbrooke Street to create this unique art work. I had the opportunity to attend the opening event in 2009 and it was awesome! This year the Ice Bar will be located again on the front terrace of the restaurant, so you will be able to enjoy a cocktail from 12:00 pm to 9:00 pm starting on the 28th of January. Have fun!
Special thanks to:
Anne Douville
Marie-Eve Laganière
Photos: Xavier Dachez
Mar, cielo y tierra. Esta es la perfecta descripción de Casa Victoria, un lugar lle…