WHAT'S UP MONTREAL? Inside the Jazz Festival (I)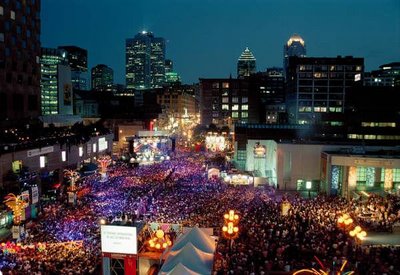 Home sweet home.
La Maison du Festival Rio Tinto is the new home for the International Jazz Festival. 450 journalists from Canada and around the world have now a new and comfortable press room. It is awesome!
The Astral Theatre is also inside this wonderful building that belongs to the Event's Neighbourhood or, "Quartier des spectacles". I had the opportunity to see the performance of Hilary Kole and they will present many shows during the Festival, as well. I think Victor Dias Lamink, a photographer that works exclusively for the Jazz Festival, took the best pictures before and after the Astral was built.
On the first floor we have a splendid boutique with all the souvenirs from the festival and the trendy restaurant "Le Balmoral", le Bistro du festival, with a gorgeous terrace to eat and enjoy the music being played on the street. We can't miss this!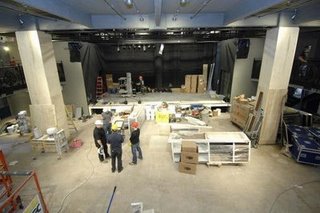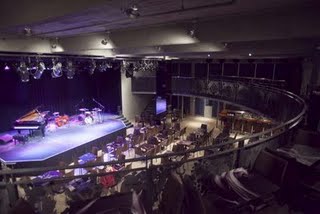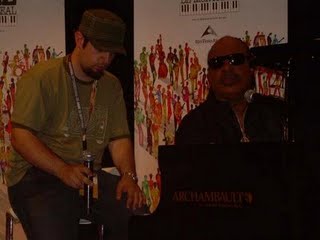 Lucky You!
David Rysphan, a piano player from McGill University, and also a reporter for CKUT Radio Station, was very lucky to join Stevie wonder on the stage during the press conference. David got some tips from Stevie and the Canadian will be performing in August at Upstairs Bar in downtown Montreal.
* L'Enfant terrible du Jazz?
After seeing Jimie Cullum at Place des Arts, I have no doubt that he became L'Enfant terrible du Jazz, he was terrific. Not only he plays, sings and composes his own songs but also he is not afraid to cross the line: He sang a cappella, with no microphone, came out of the stage to meet the audience, jumped from his piano, laid down on the floor to play the reverse of his piano like a drum, while he kept singing, and on top of that he did his own version of Michael Jackson's Thriller. At the end he invited the public to meet him on the stage, just to feel his music … It was the best show I' ve ever seen… Fricking GOOD!
Still Cool

I run into Larry Gittens the trumpet player of Kool & the Gang, and he told me they made everybody dance at Metropolis bar on Wednesday's night. The band played new songs from their recent album named "Still Cool" and a few Jazz pieces. Larry was fascinated with the Jazz Festival, and all the great musicians that came from around the world. When I asked him what was the secret to remain in the music industry, he just answered, Kool & the Gang never stops playing! They will go for a tour in Europe the rest of the year 2009.
* Passion always matters.
The press conference with photographer Herman Leonard was better that I've ever imagined, behind every single picture, there is a wonderful story. Herman brought photos of Tony Bennett, Frank Sinatra, Louis Armstrong, Sarah Vaughan, Miles Denis, Lena Horne, Quincy Jones, and many others artists when they were performing back in the 50's and 60's, and we will see them all at the Maison du Festival Rio Tinto Alcan, next September.
Leonard said that he used to carry a heavy camera with only two lights, and he didn't have as much chances as we have today with digital cameras, so he'd better thought wisely before shooting. As a matter of fact, he believes that Photoshop is a God's gift, he just loves it. His advise for amateur or professional photographers: Never delete any picture. Always publish the positive side of the artist and more than nothing, have passion for everything you do in your life, (no matter what) and you will always have success.
*Jazzing Flamenco.
I finally got the opportunity to meet Antonio Najarro the brain behind the Jazzing Flamenco, my interview will be published in ABANICO Magazine (http://www.abanico-turevista.com/) I can say so far is that he is definitely going to South America to present his ballet company.
Special Thanks to:
Festival International de Jazz
Photos: Montreal-soir / Jazzing Flamenco: JF Leblanc
Photo Astral Theatre/ Le Balmoral: Victor Dias Lamink
Mar, cielo y tierra. Esta es la perfecta descripción de Casa Victoria, un lugar lle…