I play the piano with my heart: Jose André Montaño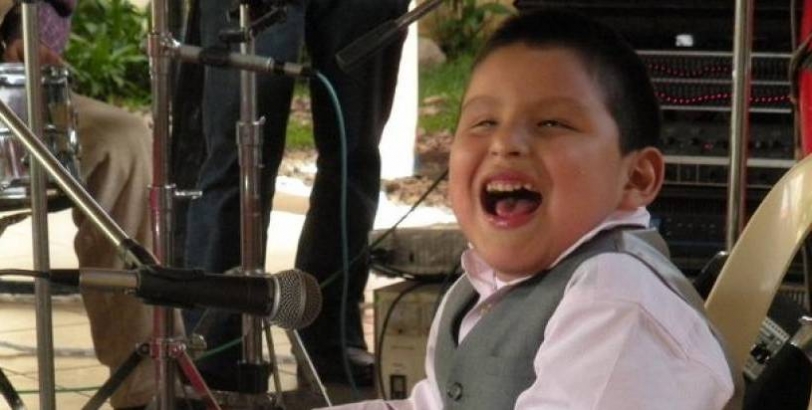 @NataliaGnecco
If Oscar Peterson, the great Canadian pianist of jazz were alive, and could share only a few moments with Jose André Montaño, he would be astonished at how quickly and well this Bolivian child can play the piano. His love for music along with the joy of his spirits has intensified his creativity so much that his talent is no longer hidden. In fact, Montaño lost his anonymity in his own country where now the local press calls him a child prodigy. Recently he appeared in several newspapers after a night of Jazz at the International Culture Festival, where he played a trio with his father, the guitarist, Roberto Montaño.
Jose André, who is seven years old, is an artist who can impress any audience. When you listen to him, you can feel a new dimension of music. He shares his gift beyond ages, and that is why he gets along with older jazz musicians so well that you need to open your eyes in order to realize that a little boy instead of mature person, is in front of the piano.
Roberto, the father of Jose Andre says that his son liked Pink Floyd and, Led Zeppelin for babies since he was very little. "I also remember that he used to drink his milk while listening to classic music. I believe that this experience helped to develop his talent, because he did not receive any classes. The first couple of years of his life, he just listened to the music and smiled. Later, we attended some concerts and I could see his joy, emotion and desperation to climb to the stage. This motivated me to bring some musical instruments at home. As the time marched on, my son recognized them through tact, form, texture and was able to appreciate the real sound that each instrument had". Roberto emphasizes.
By having instruments in the house, Jose André began to play every day and he was attracted to the battery and Latin percussion instruments. When he reached four years old, he received his first keyboard and learned his first song after two months of practice. Roberto adds: "He was very demanding with himself, he spent several hours improving the sound. He explored, he tried to compose new stuff and finally managed to come up with the Simpson theme song, because this was his favorite show on TV".
For that day on, Jose André realized that he could play what he wanted. No matter how long it took to interpret a song, he never asked for help. The exception arrived when he didn't know the name of a musical note, then he asked me. At five years old he began to demonstrate an incredible ability to interpret different types of music. Soon he began to share with professional musicians in several concerts and reunions, from Latin Folklore to Jazz.
Robert confesses that he has a special taste for Rock and Roll and Blues and loves to share that with Jose. Sometimes they play together, and no matter where the concert takes place, the young artist always arrives with his progenitor.
JOSE'S TALENT IS A BLESS
Jose Andre's talent is unique, innate and doesn't belong to any musical vein. Roberto says that his son is a blessing of God. From the moment of he was born, everything has been very special. He was a premature baby with congenital visual incapacity. There were moments of suffering, anguish, pain that he shared with his wife, just waiting to see if their son could make it.
As soon as the baby boy was stabilized, Roberto discovered music was the perfect refuge to be able to bear this difficult situation. "We were emotionally affected with the sequels of my son's birth; however, I decided to bring joy to his life through music. As this happened, Jose André was demonstrating a special interest in musical instruments. Instead of being shock by his limitations, I totally focused in the abilities of my son" Admits Roberto.
The musical connection between father and son is evident. Roberto assures that his feeling for his son goes beyond the filial love. They have performed together since Jose was three years old until the present time. "Lately in the International Culture Festival that took place in Potosí, I was overwhelmed. My son shared the stage with great Bolivian Jazz artists and, at the mean time I could feel a warm energy that came from the public that attended the concert at the IV Centenary Theater.
At the end of the performing, people stood up and applauded during several minutes. I felt a special reconnaissance towards my son, to his effort and his example of overcoming. I tried to speak and I could not, I got a lump in my throat. I only reached to thank for all the affection, expressed to Jose Andre, not only in the theater but also in the streets". Declared Roberto astonished.
I AM NOT A CHILD PRODIGY
Jose André Montaño is a very modern young person, his musical consecration does not prevent him to be always in contact with admirers who visit his profile on facebook assiduously and follow with appreciation his artistic videos, presentations and announcements. Thanks to the social network his father keeps s in touch with many people and serves as connection between those who wishes to communicate with Jose André, to congratulate him or to demand an interview. After several months of follow-up , and conversations with his father in Bolivia, the young artist could answer the next questions bellow.
Where were you born?
I was born in Cochabamba Bolivia on March 20 2005. We live in Cochabamba, but my father is from Riberalta Beni, and my mother from Oruro.
How many brothers do you have?
I do not have blood brothers but thanks to God I have many musician brothers. My musician friends are like my brothers.
Where do you study?
I attend the Kepler School. I am in first level. I am learning to read and write.
When did your love for music start?
I began to like music since I was three years old. It listened to the infantile Pink Floyd, Miss Rossy, Simpson, Barney and songs.
How many instruments do you play?
I play battery, afuche, maracas, pandereta, yenbe, timbales, piano, keyboard and I love to play blues with the harmonica.
How did you feel during your first performance?
My first presentation was in Christmas of the 2009, at home. I sang carols and Christmas songs, like the Sabanero Young donkey, Star of Bethlehem, Bell on Bell, Jingle Bells and some more than nonmemory. My first concert was with a folkloric song, a Bolivian Cuenca called "In the Doors of a Garden". I sang and my papa played the guitar, during The Talent Festival in 2010.
What are your hobbies?
I like to speak on the phone with my friends. I use my computer; I love the program jaws, and also visit the Barney site web, where I listen to infantile stories and films. Besides, I play with toys and balls, I swim and ride horses.
What is your favorite kind of music?
My favorite music is Cueca, Rock, Bossa Nova, Samba Argentina, Farmer, Brazilian Samba and I like Jazz so much.
And who are your favorite artists?
My favorite artists are Emily Bear, the Steel Gauchos, Track, Michael Camilo, Jhon Patituchi, Anthony Jackson, Vini Colayuta, Herby Hankok, Micheal Petruchiani and Mille Davis
As a blind person do you feel that other senses of your body are more developed?
To be honest, I really don't know. I remember one day before my birthday, that I went on trip with my dad, I opened the window's car and I could odor the scent of the air, and I smelled horses then I thought about the horse that we have at the Picadero, its mane is Saura. Besides that I listened to the birds.
I see that you feel much music when you interpret jazz pieces, river basins, what do you feel in those moments?
I feel much joy, emotion and happiness. I can feel the joy of people, the energy that makes me feel very contented. Music is the language of the soul,
What you do you want to transmit people when you play the piano?
I wish people could feel the happiness. I want my public to enjoy, to feel great and to be very happy.

How do you feel when you hear the applauses from the public?
When receiving so many applauses I feel happiness, emotion and I like it very much. I feel like never leaving the stage because the public offer me, more and more applauses
Tell us some experience of your trips outside Bolivia.
I have traveled to Arica Chile as well as Brazil, but I did not go to play, I was here for a medical evaluation.
Your fingers fly across the piano. Have you heard that people in Bolivia say that you are a child prodigy? Well I do not consider myself a child prodigy. If my fingers can fly across the piano, it is because I play the piano with my heart.
If you could send one message to the children of the world, what would it be?
I wish I could send a message of joy and happiness to all of them. Also I want the children to do their best and to work hard to be better every day.
Finally, what are your plans for the future?
It would like to play inside Bolivia and then bring my music overseas, to everybody.
Mar, cielo y tierra. Esta es la perfecta descripción de Casa Victoria, un lugar lle…