2014 Montreal International Jazz Festival Awards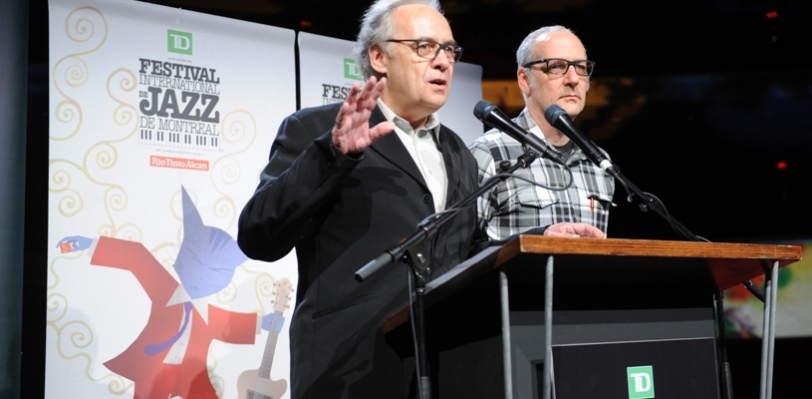 Montreal International Jazz Festival honours Diana Ross, Elvis Costello, Terence Blanchard, Paco de Lucía, Ron Di Lauro, Jean-Philippe Allard
and also creates the new B.B. King Award.
@NatalaiGnecco
This year, the Festival International de Jazz de Montréal (June 26 – July 6, 2014) highlights the exceptional contributions to music made by Diana Ross, Elvis Costello, Terence Blanchard, Paco de Lucía and Ron Di Lauro, as well as the remarkable oeuvre of Jean-Philippe Allard. During this 35th edition of the Festival, the winners will be presented, respectively, with the Ella Fitzgerald Award, Montreal Jazz Festival Spirit Award, Miles Davis Award, Antonio Carlos Jobim Award, Oscar Peterson Award and Bruce Lundvall Award. Also, the Festival adds a new distinction for its 35th anniversary, the B.B. King Award, which will underline the exceptional talent of an artist who has left an indelible impression on the blues scene, B.B. King
2014 B.B. King Award: B.B. King
Created for the 35th edition of the Festival, the B.B.-King Award will henceforth be presented to an artist who has distinguished himself or herself on the blues scene. The Festival's inaugural B.B. King Award is presented to the King of the Blues himself: the indefatigable Riley "Blues Boy" King, who's been performing since the '40s, singing the music of his native Mississippi with an unequaled passion. Winner of 15 Grammys, inducted into the Rock and Roll Hall of Fame and the Blues Hall of Fame, his incredible CV includes some 40 albums and thousands upon thousands of concerts. With a style enriched by jazz colourings and West Coast blues, he and his iconic guitar nicknamed Lucille gave birth to a signature fluid, silvery, stripped-down sound admired by several generations of bluesmen and rockers, including Eric Clapton, the Rolling Stones and U2.
2014 Ella Fitzgerald Award: Diana Ross
Diana Ross is the 16th recipient of the Ella Fitzgerald Award, established in 1999 for our 20th anniversary and conferred in recognition of the versatility, improvisational originality and quality of repertoire of a singer renowned on the international scene. This showbiz icon boasts a career that is a musical odyssey stretching over 50 years, including Motown classics Where Did Our Love Go, Love Child and I Hear a Symphony, dance smashes Love Hangover, Upside Down and Touch Me in the Morning, and jazz in Lady Sings the Blues. Add in 100 million albums sold, eighteen #1 hits, 8 American Music Awards and a Grammy Lifetime Achievement Award.
2014 Montreal Jazz Festival Spirit Award: Elvis Costello
Elvis Costello will be the 8th artist to receive the Montreal Jazz Festival Spirit Award. Created especially on the occasion of the 27th edition of the Festival, in 2006, this special award underlines a popular artist's extraordinary contribution to the musical world. Arriving with the punk-new wave explosion, this major singer-songwriter has magisterially written and recorded pop, rock, jazz, country and cabaret. Over the course of an almost 4 decade career, he's released 24 albums, solo or accompanied by his Attractions or Imposters, from his brilliant 1977 debut, My Aim Is True, to his most recent, Wise Up Ghost (2013), and including such memorable discs as This Year's Model, Armed Forces, Get Happy!! and Secret, Profane & Sugarcane. Winner of a number of awards including a Grammy for the song I Still Have That Other Girl (1999), inducted into the Rock and Roll Hall of Fame, he was ranked among the 100 Greatest Artists of All Time by Rolling Stone magazine in 2004.
2014 Miles Davis Award: Terence Blanchard
Terence Blanchard will be the 21th recipient of the Miles Davis Award, created for the 15th anniversary in 1994 to honour a great international jazz musician for the entire body of his or her work and for that musician's influence in regenerating the jazz idiom. Named "the most brilliant new trumpeter" by Miles Davis, Louisiana's Terence Blanchard has established himself as one of the most talented musicians in jazz, winning over fans and critics for a coolly expressive trumpet style as masterful as it is relaxed, equally voluptuous and controlled. With 20 albums out under his own name as a co-leader, winner of 5 Grammy Awards and artistic director of the Henri Mancini Institute at the University of Miami and the Detroit Symphony Orchestra's jazz series, Blanchard has also written music for film (Jungle Fever, Malcolm X, 25th Hour), Broadway and even a jazz opera, Champion, a musical treatment of the life of boxer Emile Griffith released last year.
2014 Antonio Carlos Jobim Award: Paco de Lucía
Paco de Lucía is the 11th recipient of the Antonio Carlos Jobim Award, created for the Festival's 25th anniversary to honour artists distinguished in the field of world music whose influence on the evolution of jazz and cultural crossover is widely recognized. Named "the greatest guitarist in the world, period," by Pat Metheny, Paco de Lucía left behind a musical legacy that touched the entire world upon his passing on February 25, with a career that stretched over half a century. Renowned for his immense virtuosity, magisterial interpretations and prolific songwriting, Paco de Lucía profoundly renewed the flamenco style by linking its purest traditions to avant-garde jazz and giving a universal resonance to his profoundly Spanish art. His resounding success in his native land, Spain, spread to the rest of the world, from South America to Japan, overpowering audiences with a staggering technique described as "terrifying" by flabbergasted admirers. After launching his American career in 1961 with a concert at the United Nations in New York, he distinguished himself as part of a history-making trio with guitarists Al Di Meola and John McLaughlin, as well as his recordings with his sextet.
2014 Oscar Peterson Award: Ron Di Lauro
Ron Di Lauro is the 26th artist to receive the Oscar Peterson Award, created on the 10th anniversary of the Festival in 1989 to salute a Canadian musician who has made outstanding contributions to jazz in this country and for the quality of his art. Working at the heart of the national jazz scene for over 30 years, Montreal trumpeter Ron Di Lauro has made his name for both his versatility and technical mastery: from jazz to classical, stage musicals to klezmer, he is adept in all styles and now ranks among the most in-demand trumpeters in Québec. In addition to his frequent recording and touring, the trumpeter has accompanied an array of renowned artists, including Dizzy Gillespie, Aretha Franklin, Tony Bennett and Oliver Jones.
2014 Bruce Lundvall Award: Jean-Philippe Allard
Jean-Philippe Allard is the 6th recipient of the Bruce Lundvall Award. In keeping with a tradition launched for the Festival's 10th edition, and repeated every five years with the addition of a new prize, the Festival marked its 30th anniversary with the creation of the Bruce Lundvall Award, presented annually to a non-musician who has left a mark on the world of jazz or contributed to the development of the music, through the media, the concert or record industries. Director of Universal Music Publishing France MGB, Jean-Philippe Allard has worked in the music industry for over 30 years. He created the Jazz department at Polygram France and headed Universal Classique, and was managing director of the Polydor label for 10 years. As head of Universal Jazz France, he signed an array of artists including Helen Merrill, Abbey Lincoln, Charlie Haden, Randy Weston, Kenny Barron and Ornette Coleman, and as head of Polydor, signed Juliette, Paris Combo, Juliette Gréco, Feist and IAM. He has also worked with Eddy Mitchell, Maurane, Maxime Le Forestier, Eminem and Dr. Dre. Allard has likewise left his mark as president of the Victoires de la musique classique (2005-2006) and as a member of the artistic committee for the Victoires du Jazz (2006-2007).
Photos: Victor Díaz Lamich
Soruce: FIJM
Mar, cielo y tierra. Esta es la perfecta descripción de Casa Victoria, un lugar lle…